Happy December!
It seems like I've got to look across the Atlantic for a little style inspiration featuring a little diversity and this time it's
Harper's Bazaar Russia that is serving up the glamour in a stunning editorial featuring Cabo Verde born model Raquel Pinto in their DEC 2012 issue photographed by Natalia Alaverdian
.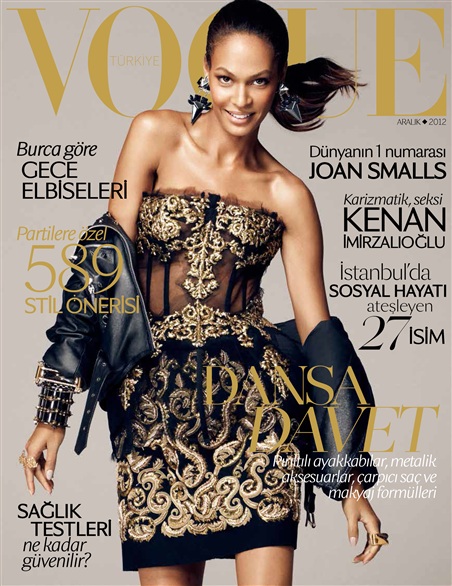 Joan Smalls has snagged another cover and editorial and this time it's the DEC issue of Vogue Türkiye.
Naomi Campbell and Kate Moss grace the cover and appear in an editorial for Interview Russia № 12 DECEMBER 2012, photographed by Mert Alas & Marcus Piggot, along with Ataui Deng who is also featured in a gorgeous editorial photographed by Elle Muliarchyk.
Ataui Deng for Interview Russia.
We've just discovered this beautiful Dominican beauty named Diana Danelys De Los Santos, aka Amara "La Negra" Santos.
This Reggaeton Queen is all over the place and already has an impressive fan base. I hope she doesn't change a thing about her once she becomes a household name because she is beautiful just the way she is.
The super talented and beautiful Esperanza Spalding rocked it a out in one fabulous editorial for Revista S Moda.
Up and coming model Lily Makam shines in KENZO's latest ad campaign.
The Model We Can't Get Enough Of: Philomena Kwao
This Ghanaian born beauty is absolutely stunning!!!
Expect to see more of this London based model.
Jimmy Choo Is A Visionary!
The Beautiful Jeneil Williams is fronting one badass campaign for Jimmy Choo Cruise 2013.
Domestic Visions:
Kerry Washington for Uptown Magazine Dec/January Issue pumping up the "Django" promotion machine.
Solange Knowles' new EP "True" is out, even though I like her song "Losing You" I'm still on the fence about whether I should buy the rest of her EP. For some reason I'm just not feeling it and I love my Euro-Dance tunes. Her album comes off as if she's all over the place and still hasn't found her grove.
On another note, I actually broke down and contributed to increasing Rihanna's bottom line by purchasing her latest music offering. Silly me brought the unclean version, so I know I can't blast that with the kiddies in the car.
Tory Burch just discovered the beautiful Shea Rose
(at least she featured her) and you should too! Folks are sleeping on these talented singers who are obscured by *clears throat* the obvious...above. I plan on writing a lengthy blog post on these musicians who are out there but aren't receiving the recognition and promotion they should because the media is simply stuck on who's popular. Blogger's, you do wield a certain amount of influence and collectively we can galvanize enough support for these artists who want to get their music out there to the masses.
Singer Shea Rose for Tory Burch.
So far December looks to be another promising month and I'm sure it will be one for many of you.