Soledad O'Brien and Geraldine Moriba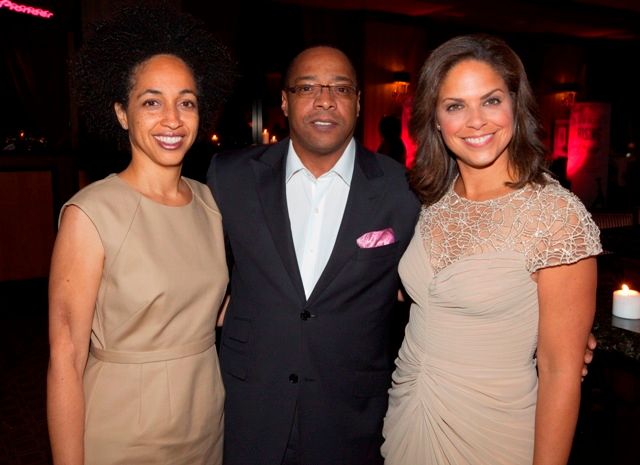 CNN'S Geraldine Moriba, Darius Walker and Soledad O'Brien
Geralidine Moriba is an award-winning producer and most recently has been named the executive producer of CNN's "In America" unit, the network's newly created division which will extend the "In America" franchise anchored by Soledad O'Brien. Moriba has more than 20 years of journalism experience.
Moriba comes to CNN after 16 years at NBC News, for 12 years she served as a producer for Dateline NBC. Most recently she has served as senior producer for Broadcast Standards, monitoring news reports on all NBC News platforms. During this time, Moriba also served as an executive and senior producer on various multi-platform projects including: Obama's America 2010 with Chris Matthews and Tom Joyner, an MSNBC special town hall on race; About Our Children with Bill Cosby, a two-hour MSNBC special on education; Making Your Vote Count, an election unit covering election fraud and irregularities in the 2008 elections; and the critically acclaimed Father's Promise with Al Roker and Tiki Barber about the crisis of absent African American fathers.
While at Dateline NBC, she produced numerous breaking news reports, as well as an investigative report on a NYC Child Services, various 9-11 stories, and an in-depth report tracing the lives of students in a 1982 fourth grade class photo to determine the impact of crime, poverty and broken homes. While at NBC News, Moriba was appointed a prestigious Visiting Ferris Professorship of Journalism position at Princeton University. During her tenure she developed and taught a seminar on how to use digital journalism skills to get more untold stories on the air.
She was also the co-chair for NBC News' Diversity Committee developing diversity programs to support leadership development and diverse content across NBC News programming. Moriba has won five Emmy Awards, a Peabody Award, and numerous other awards and accolades. Moriba received her honors bachelor's degree in Political Science and Women's Studies from the University of Western Ontario. She is married with two children. The second of four children, Moriba grew up in Toronto, Canada. To learn about this beautiful and talented woman click
here
.
Photos: Wire Image/CNN